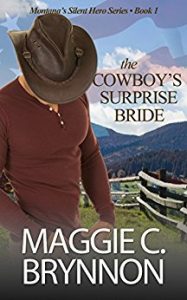 About The Cowboy's Surprise Bride: Montana's Silent Hero Series Book 1:
Erin Richards has a secret. She was running from a life that she wanted desperately to leave behind when she pulled onto the Gentry Ranch in the hopes of becoming the new cook. And as it turns out her new employer, Taggert Gentry, an ex-Marine Special Ops soldier with a secret of his own, just happened to be the most ruggedly handsome man she had ever seen in her life. But when things get a little heavy between herself and Taggert, she finds that memories of her past boyfriend, whom she is running from, still haunt her. Then an unexpected visitor arrives with secrets of his own and Gentry Ranch must brace for its deadliest night ever. Can she overcome her terrible past and perhaps find love with her new silent hero, or is she just not meant for love at all?
Buy the book, and follow the author on social media:
Learn more about the writer. Visit the Author's Website.
Buy the Book On Amazon.
Visit the Facebook Fan Page.