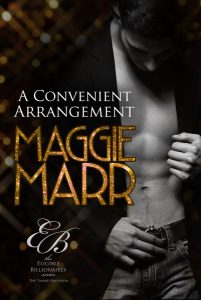 About A Convenient Arrangement by Maggie Marr:
Billionaire tech genius Leo Travati is the ultimate playboy.
He's the poster boy for bachelor life…literally.
The launch of Leo's new app The Convenient Arrangement solidifies his rank as the #1 most eligible bachelor–and he plans to keep things that way.
Gwen Fleming is well aware of Leo's reputation. But after one electrifying touch, she finds herself considering "no strings" just to satisfy the need that burns whenever Leo is near.
Only what begins as no-strings grows more complicated, because Leo feels the intense attraction as well.
Could this convenient arrangement last forever?
Buy the book, and follow the author on social media:
Learn more about the writer. Visit the Author's Website.
Buy the Book On Amazon.
Visit the Facebook Fan Page.
Visit the Twitter page.