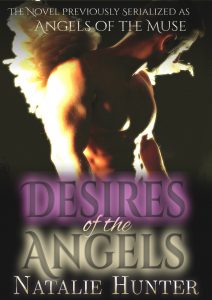 About Desires of the Angels by Natalie Hunter:
A GODDESS WHO HAS TURNED HER BACK ON THE WORLD
HER HAREM OF FIVE ANGELS, ASCENDED FROM MEN
A STRESSED OUT ADVERTISING EXECUTIVE
A WOMAN ON THE RUN
What happens when all of their worlds collide?
In this steamy, romantic paranormal fantasy novel, the story of an angel who falls in love with a human and sparks a rebellion against the dominant goddess who has had him and his four brothers in her thrall for centuries unfolds.
Calliope the goddess-muse turned her back on the mortal realm centuries ago, and has spent the time since with only her harem of five angels to amuse her. These were once men – brave, impressive warriors, hand picked by the goddess to be ascended and become her immortal army. With nobody left to fight, the angels now compete for her favor, and serve only to pleasure the goddess and show her the adoration she needs in order to survive.
Cara is an advertising executive who has a serious case of impostor syndrome. She has been chosen to lead a sales pitch to a major potential client, and she is completely devoid of ideas. When she jokingly appeals to a goddess for inspiration, a series of events is kicked into motion that will change her life, and the lives of Calliope and her angels, forever.
See how the love between Jael, the angel, and Cara fares when all of the odds are against them, and the goddess Calliope is determined to punish them both as harshly as she can.
What will it take for the angels to win their freedom to live as the men they were born to be?
This is a sexy paranormal romance with instalove, destined partners, a happily ever after and no cliffhangers.
Buy the book, and follow the author on social media:
Buy the Book On Amazon.
Visit the Twitter page.